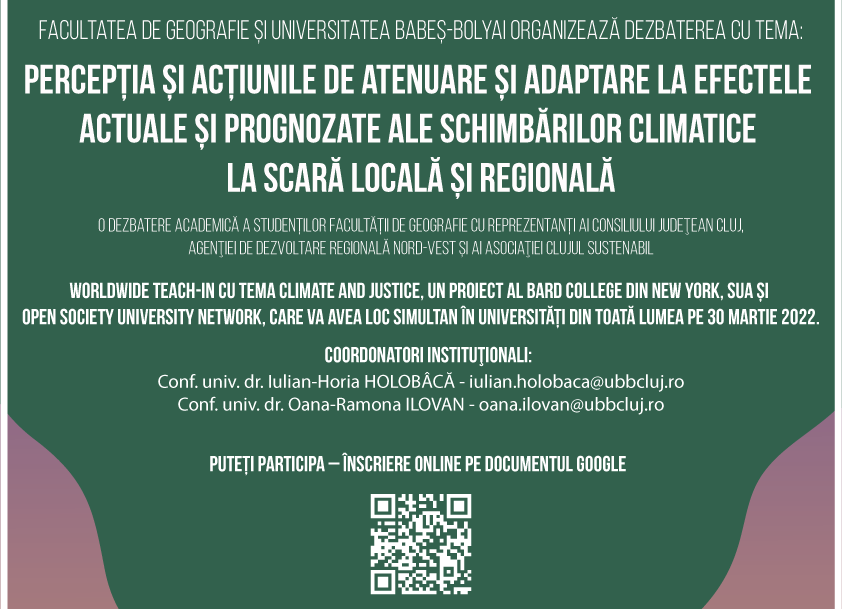 Programul dezbaterii_Climate and Justice_30_martie_2022
Facultatea de Geografie și Universitatea Babeș-Bolyai organizează dezbaterea cu tema:
PERCEPȚIA ȘI ACȚIUNILE DE ATENUARE ȘI ADAPTARE LA EFECTELE
ACTUALE ȘI PROGNOZATE ALE SCHIMBĂRILOR CLIMATICE
LA SCARĂ LOCALĂ ȘI REGIONALĂ
O dezbatere academică a studenților Facultății de Geografie cu reprezentanți ai Consiliului Judeţean Cluj, Agenţiei de Dezvoltare Regională Nord-Vest și ai Asociaţiei Clujul
Sustenabil
În ce context: Worldwide Teach-In cu tema Climate / Justice, un proiect al Bard College din New York, SUA și Open Society University
Network, care va avea loc simultan în universități din toată lumea pe 30 martie 2022.
Unde: în mediu virtual – pe platforma Teams - https://teams.microsoft.com/l/team/
Când: 30 martie 2022, de la ora 17
Cum: puteți participa – înscriere online pe documentul Google
https://docs.google.com/document/d/1z1YY8kKny016Z7Z7BdavtiRWdq2_rVaE0A1ZpeHWINA/edit
Coordonatori instituţionali:
Conf. univ. dr. Iulian-Horia Holobâcă
iulian.holobaca@ubbcluj.ro
Conf. univ. dr. Oana-Ramona Ilovan
oana.ilovan@ubbcluj.ro
UPDATE:
Climate and Justice Event at Babeş-Bolyai University, Cluj-Napoca, Romania
On the 30th of March 2022, from 5 to 7.30 p.m. EET, an academic debate took place on Microsoft Teams, with the topic Perception, Mitigation and Adaptation to Current and Future Effects of Climate Change at Local and Regional Level. This was organised by the Faculty of Geography and the Research Centre for Territorial Identities and Development, both in Babeş-Bolyai University, Cluj-Napoca, Romania. The institutional coordinators were Associate Professor Iulian-Horia HOLOBÂCĂ, Ph.D. and Oana-Ramona ILOVAN, Ph.D. The event was part of the Worldwide Teach-In on Climate and Justice, a project of Bard College from New York, the USA, together with the Open Society University Network. Our event was one of the more than 300 Teach-ins on climate and justice throughout the world, which aimed at raising awareness and encouraging action to address the causes and impact of climate change.
Speakers at the debate were academics, representatives of public institutions (Cluj County Council and the Office for Regional Development North-West) and of NGOs (the Association Clujul Sustenabil). They presented the general scientific background on climate change, as well as the activities and projects of their institutions concerning the topic. The urgency of acting against climate change, especially at the local level, was emphasized. Students of the Faculty of Geography, at all levels of study, took the opportunity to ask questions on climate and justice and discuss various issues with the speakers and professors participating at the debate. A total of thirty-two people participated, including five professors, six guests, and university students.
This academic debate was only a step in what the organisers hope to be a series of similar events in the years to come.
Powered by Froala Editor